Discover more from Pete's Perspective
Thoughts on video games, mostly of the "retro" variety.
Green is Good: Revisiting the Original Xbox
My lineup of sixth-generation consoles is now complete with this 2001 hardware powerhouse.
In late November of 2022, I finally pulled the trigger on the purchase of an original Xbox console. It's a purchase that I'd wanted to make for some time, but I had concerns about reliability. I had been given a hand-me-down original Xbox for my 40th birthday back in 2012, but it stopped working less than two weeks after I got it… so I was nervous about acquiring another.
I bought from an online seller owned by a Facebook friend— shout out to Found Gaming, by the way— and have been gradually building a library of games over the past few weeks. It's been an absolute blast going back to this era of video gaming, while appreciating the power and the advantages that the original Xbox had over its generation of competition. The onboard hard drive was a game-changer at the time, and is still notable today as it eliminates the need for memory cards. The option for custom soundtracks is also notable, as it's possible to play some great games with a curated soundtrack instead of the music that comes with certain releases.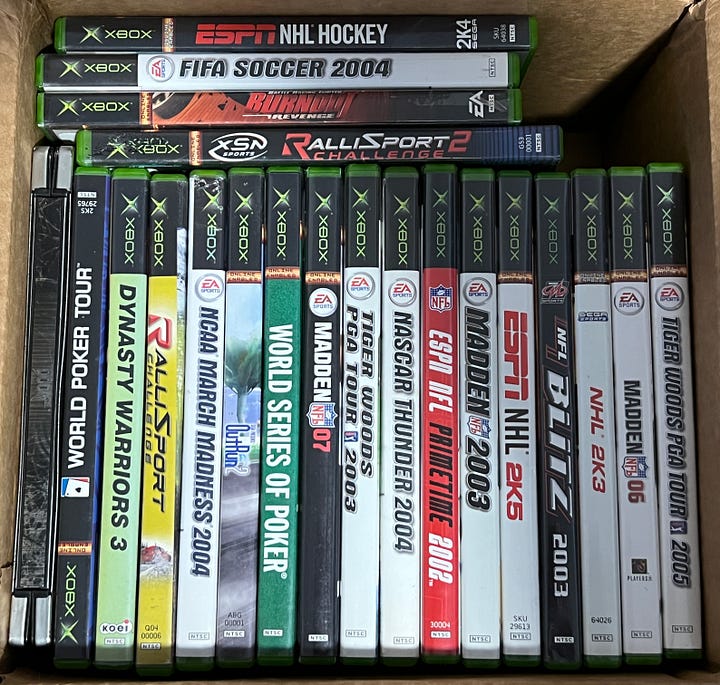 It's all about the games, of course, and I think it's easy to forget how impressive the lineup of exclusive and multiplatform software was (and still is) for the Xbox. As a big fan of sports video games, playing titles like the ESPN 2K5 games— titles that were developed with the Xbox as the lead platform— this way is the definitive way to do so. ESPN NFL 2K5 has video highlights that run during halftime, postgame, and weekly wrap-up shows. Microsoft's own first-party sports games range from average (NFL Fever) to excellent (Links 2004). Racing games are great on the console, and oh, by the way… BioWare's games in Star Wars: Knights of the Old Republic and Jade Empire are pretty gosh-darned good.
Perhaps the best part of having an original Xbox now and beginning to build a library for it is that the prices are generally quite affordable. It's not like collecting for Gamecube or even the NES/SNES, where prices have been on an upward trajectory. Of course, this variable can shift depending on the genres of software you're looking to buy, or the "big hitters" that still command big value. Purchasing from eBay can be cheap, but be sure to check disc conditions. I've had excellent success from Lukie Games, in terms of disc quality. I also recommend DKOldies and J2Games.
I look forward to talking more about Microsoft's freshman console— and, more importantly, its games— over the coming weeks and months.